Meet Lina Faroussi, the Syrian Canadian artist raising the bar for others in the world of art.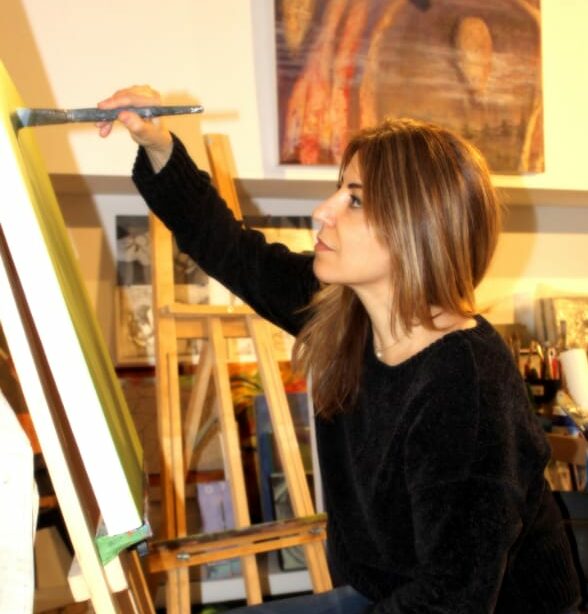 "In my paintings, I try to convey emotion or an idea rather than a reality," reveals the incredible painter and visual artist.
They say that all world's an art, and rightfully so, if we look closely and deeper, we would realize how the one up there is the ultimate artist who has created the world by his hands and inspired so many artists around the world to create something that could make a profound impact on the viewers and art lovers. The world is filled with innumerable talents in the artistic world and has proved that art is something that comes from within; it is beyond the concepts of learning or unlearning things; it is more than that and much deeper than what people believe it is. This is what Lina Faroussi too believes, a Syrian Canadian artist who has spellbound people through her artworks, painting and visual art and has made a unique name for herself in the vast industry.
They say the best of art in the world comes out when triggered or powered by strong and gut-wrenching experiences of life, as that is how artists translate their deepest emotions and thoughts through the colours they put across the canvas. The story of Lina Faroussi is the same, where she was born and raised in Syria and was a witness to many unsettling experiences surrounded by political turmoil and by the recent war, which intensely impacted her, watching her homeland torn apart. To continue her Bachelor's degree in commerce, she moved to Egypt. Her passion for art began at a very early age, where she wanted to make her strong emotions and feelings traverse across the canvas. Later she moved to Dubai and now has Toronto, Canada, as her home since 2008. She studied visual art in different art institutions, and today as a visual artist exhibits in numerous group and solo shows throughout the Middle East, Europe, Canada and the US.
Her thoughts, beliefs, experiences are easily noticed in her artwork and paintings that combine aspects of both figuration and abstraction; it depicts human figures stretched, tinted, and textured into beautiful, mesmerizing creatures that emote real emotions. Lina Faroussi mostly paints in acrylic, combined with a variety of media, including fabric, Japanese paper, clay, sand and photo transfers, canvas, wood panel, and mixed media to add to the tactile sensation of her works.
In 2018, Lina Faroussi also came up with her new business line and created her brand "Lina's", where she prints some of her original paintings digitally into different forms of fabric. At first, she started with scarves/ Wearable art and then the idea grew into more interior designs, such as Cushions, Table runner, Curtains and more. She proudly says that she explores a world in which figurative painting coexists with abstraction and quotes, "In my paintings, I try to convey emotion or an idea rather than a reality."
Lina Faroussi hopes that people connect with her paintings on different levels and perhaps see their own journey.